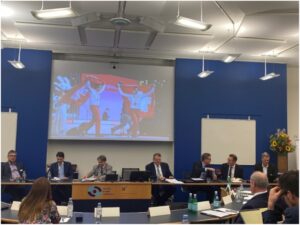 On 13 October 2022 the European Association of Lawyers (AEA-EAL), together with the World Trade Institute (WTI), organized the annual Workshop on European and International Economic Law for the fifth time in Berne. The topic of this conference was the relationship between Switzerland (CH) and the European Union (EU), in particular the 50th anniversary of the Swiss-EU Free Trade Agreement, the European Economic Area and possible forms of a future relationship between CH and the EU.
Again this year the conference included high-level speakers like the new Swiss State Secretary for Economic Affairs, the Secretary-General of the European Free Trade Association (EFTA), the Secretary General of the Swiss cantons and eminent representatives of the EU and the Swiss economy.
The AEA-EAL is also looking forward to co-organising the market access conference next year.